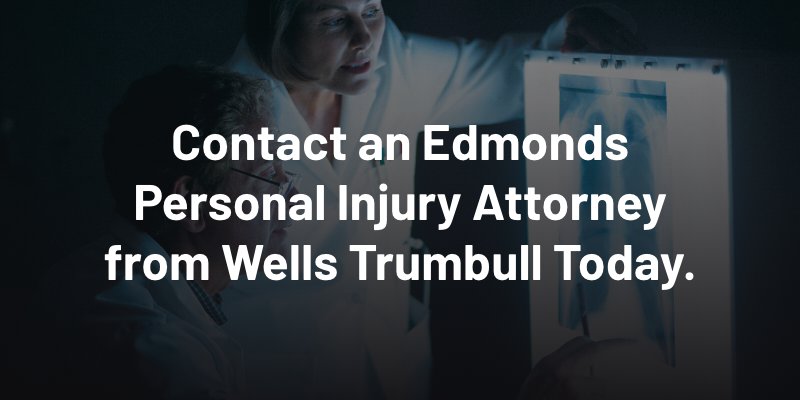 When life takes an unexpected turn due to someone else's negligence, you and your loved ones deserve justice. Wells Trumbull is a personal injury law firm where our dedicated team of personal injury attorneys in Snohomish County is committed to providing you with experienced legal guidance and aggressive representation. With a proven track record of winning cases and securing favorable settlements, we are here to help you navigate the complexities of personal injury law. Whether you or a loved one has been involved in a car accident, suffered from medical malpractice, or experienced any other form of personal injury, trust our personal injury lawyers in Edmonds to fight relentlessly for the compensation you deserve. Contact a personal injury lawyer at (360)435-1663 today for a free consultation.
Edmonds Personal Injury Resources and Quick Links
What is an Edmonds Personal Injury?
An "Edmonds Personal Injury" refers to personal injury cases in Snohomish county that encompass a wide range of situations in which an individual suffers physical, emotional, or psychological harm due to the negligent, reckless, or intentional actions of another person or entity. For instance, if you are injured in an auto accident, bicycle accident, or severe car crash, it is in your best interest to contact a personal injury lawyer today. Personal injury cases often involve complex legal processes and require thorough investigation, evidence collection, and legal understanding to prove liability and secure appropriate compensation. Injuries can range from minor to severe, including catastrophic injuries that have long-term or permanent effects on one's quality of life. Contact an Edmonds personal injury lawyer in Snohomish County today for assistance with your case.
Common Types of Edmonds Personal Injuries
Personal injuries can occur in a variety of settings and circumstances. While the list is not exhaustive, here are some common types of personal injuries that individuals in Edmonds may encounter:
Car Accidents – One of the most common sources of personal injuries, an Edmonds car accident can result in a range of injuries from minor scrapes to severe trauma. If you or a loved one have been wrongfully injured in a car accident, contact Wells Trumbull today.
Motorcycle Accidents – Motorcyclists are at high risk for severe injuries, given their relative lack of protection compared to car drivers.
Truck Accidents – Accidents involving large trucks often result in significant damage and severe injuries due to the size and weight of the vehicles involved.
Slip and Fall Accidents – These can happen in various settings, such as supermarkets, restaurants, or even private homes, usually due to hazardous conditions like wet floors or uneven surfaces.
Workplace Injuries – Injuries at work can range from repetitive strain injuries to accidents involving machinery or falls from height.
Medical Malpractice – This category includes injuries caused by medical errors, such as surgical mistakes, incorrect prescriptions, or failure to diagnose a condition properly.
Animal Attacks – Dog bites and other animal-related injuries can cause both physical harm and emotional trauma.
Product Liability – Injuries caused by defective or dangerous products, ranging from faulty electrical appliances to unsafe children's toys, can be grounds for a personal injury claim.
Pedestrian and Bicycle Accidents – Pedestrians and cyclists are vulnerable to injuries from collisions with motor vehicles or due to poor road conditions.
Recreational and Sports Injuries – Injuries sustained while participating in recreational activities or sports events can sometimes lead to personal injury claims if negligence is involved.
Wrongful Death – In extreme cases, negligence or misconduct can result in fatal injuries, leading to wrongful death claims by the family of the deceased.
Each type of personal injury comes with its own set of legal considerations, such as establishing negligence, gathering evidence, and determining the appropriate amount of compensation. An experienced personal injury attorney in Edmonds can help you get proper compensation.
Steps to Take After Experiencing a Personal Injury Accident in Edmonds
Accidental injuries are sudden, painful, and traumatic. When they happen due to someone else's fault, they're even more distressing. If you're very seriously injured, you may be unable to do anything except wait for emergency services to arrive; however, by using your phone—or asking an uninjured companion or bystander to use it for you—you can take the following important steps to protect your physical and financial future:
First, call 911 to ask for emergency services. Request the police if the injury occurred in a traffic accident or by a violent crime

Use your phone to take photos of your visible injuries

Photograph anything relevant to the injury like the scene of a car accident and the damaged vehicles, or the wet floor in a slip-and-fall accident

Take photos of any visible injuries

Record your statement about what you remember about the accident that caused the injury while it's fresh in your mind

Add the contact information of anyone involved and any eyewitnesses to the incident
At the hospital, undergo a thorough medical evaluation and tell the provider about all of your symptoms, even those that seem minor. Ask for a detailed medical report with your prognosis and recommended treatments included.
Be sure to call the attorneys at Wells Trumbull before speaking to anyone from the insurance company. Then, refer all communications with insurance adjusters to your lawyer.
Recoverable Damages in Edmonds Personal Injury Claims
In Edmonds, damages can generally be classified into several categories such as Economic Damages, Non-Economic Damages, and other Special Damages. Here is more information on these categories:
Economic Damages
Medical Expenses: These cover current and future costs of treatment, surgery, medication, rehabilitation, and any other medical care required due to the injury.
Lost Wages: Compensation for wages lost as a result of the injury and time taken off work for medical treatment.
Lost Earning Capacity: If the injury impacts your ability to work in the future, you may be compensated for lost earning capacity.
Property Damage: Reimbursement for property (e.g., vehicles, personal items) damaged during the accident.
Non-Economic Damages
Pain and Suffering: Compensation for physical pain, discomfort, and suffering endured due to the injury.
Emotional Distress: Damages for mental or emotional trauma, including anxiety, depression, and other emotional disorders that may arise from the incident.
Loss of Consortium: Damages awarded for the negative effects the injury has had on the plaintiff's relationship with their spouse or partner.
Loss of Enjoyment: Compensation for loss of enjoyment of life, or the ability to participate in activities and hobbies.
Other Special Damages
Punitive Damages: These are rarely awarded in Washington State but may be applicable in cases of extreme negligence or intentional misconduct. Their primary purpose is to punish the defendant rather than compensate the plaintiff.
Wrongful Death: In the event of a death, family members may be entitled to recover damages such as funeral costs, lost income, and loss of companionship.
Cost of Living Adjustments: In some cases, future damages may be adjusted for inflation or increased cost of living.
Legal Fees: Sometimes, the plaintiff may be able to recover attorney's fees and court costs, although this is generally not standard in personal injury cases.
Each case is unique, so the types and amounts of recoverable damages will depend on the specific circumstances of the injury. It's important not to rely on your insurance company. Insurance companies often only pay you what they deem is fair. A personal injury lawyer in Edmonds can help you navigate the recoverable damages.
Statute of Limitations in Edmonds Personal Injury Claims
The statute of limitations for most personal injury claims is generally three (3) years from the date of the injury or the date the injury was discovered or reasonably should have been discovered. This means you have a three-year window to file a lawsuit against the party or parties responsible for your injury. Failure to file within this time frame usually results in the loss of your right to sue for damages related to that injury. It's important to contact a personal injury attorney in Edmonds to help you file your claim before it's too late.
There may be exceptions or specific conditions that could alter this general time frame. For example, in medical malpractice claims, special rules might apply, including shorter or different time frames. Also, in some cases where the injury was not immediately apparent, the "discovery rule" may apply, allowing the statute of limitations to begin from the time the injury was or should have been discovered. An Edmonds personal injury lawyer will know exactly how to navigate the statutes of limitations.
Comparative Negligence in Edmonds
Many injury victims believe that they can't file a personal injury claim if they are partly at fault for their injury. In Washington, this isn't true. Even if you share the fault for your injury, you may still file a claim. For example, if another vehicle collided with yours because they ran a red light, but you were exceeding the speed limit at the time, you may be partly at fault. Or, if you slipped on a wet floor in a convenience store but there was a warning sign placed a distance away. With Washington's comparative negligence insurance laws, when an insurance company finds an injury victim partly at fault for the injury, they can still recover a portion of their damages in a personal injury claim. Their compensation will be minus their percentage of fault. For example, a $100,000 compensation award for car accident injuries for a victim found 25% at fault allows the victim to recover $75,000.
It's important to have skilled legal representation for a personal injury claim in Edmonds because insurance companies often use the state's comparative negligence laws unfairly in order to minimize the amount they must pay out on a claim. An insurance adjuster may assign an injury victim a greater percentage of fault than they're due in an accident claim in order to protect their profits.
How Can an Experienced Edmonds Personal Injury Attorney Help You?
No one should take on Washington's comparative negligence insurance laws in a personal injury claim without an experienced personal injury lawyer in their corner. Insurance companies are not on your side, no matter how compassionate they might sound on the phone. A skilled personal injury attorney can help you get the most out of your claim by doing the following:
Thoroughly investigating all aspects of your injury to determine the liable party

Document clear evidence of liability to meet the state's requirement for showing that the at-fault party had a duty of care to take reasonable measures to prevent injuries, that they breached this duty through negligence, recklessness, or wrongdoing, and that their negligent breach directly caused injury resulting in damages to the victim

Carefully calculate your economic and non-economic damages to maximize the amount of compensation available in your claim

Send a compelling demand package to the appropriate insurance company

Skillfully negotiate with the insurance adjuster assigned to your case to secure the largest possible settlement

Litigate the matter in court if the insurance company fails to offer an ample settlement amount
Around 95% of personal injury claims in Edmonds are settled out of court with the help of a skilled attorney; however, the personal injury lawyers at Wells Trumbull are more than ready to take your case to court if necessary to secure your compensation. While court cases take longer than a settlement, they typically result in a larger compensation amount.
Contact Our Personal Injury Attorneys in Edmonds Today
If you've been injured in an accident in Edmonds, Washington, time is of the essence. Don't let the statute of limitations run out on your claim. Contact our experienced Edmonds personal injury lawyers at Wells Trumbull today to discuss your case and explore your legal options. We're committed to providing you with the compassionate and effective representation you need to seek justice and compensation for your injuries. Don't wait—reach out to us today to schedule your consultation.