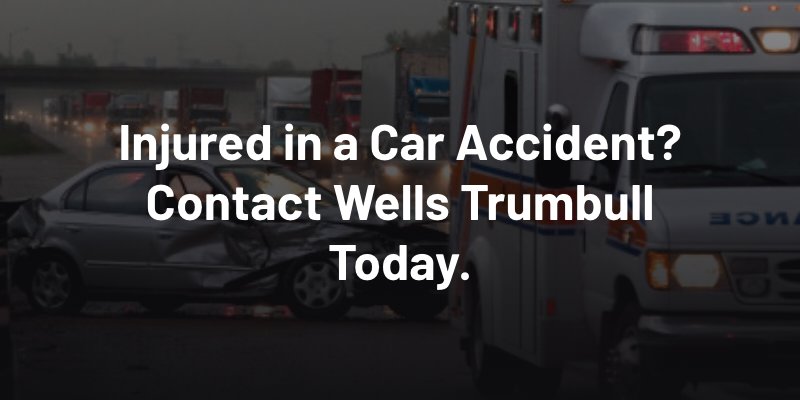 In Snohomish County, like the rest of Washington State, navigating car accident claims involves a comprehensive understanding of applicable statutes, case laws, and regulations. When you find yourself in a car accident, it is crucial to be aware of your legal rights and responsibilities to process claims effectively.
An experienced Snohomish County car accident lawyer from Wells Trumbull can help you or your family member navigate your car accident claim successfully and recover the compensation you need and deserve. Fill out our contact form or give us a phone call (360)435-1663 today for a free consultation.
Snohomish Car Accident Resources and Quick Links
Why Choose Us For Your Car Accident Lawyers in Snohomish?
At the law firm of Wells Trumbull in Snohomish, we understand the harsh physical and economic toll a car accident takes on victims. By choosing Wells Trumbull for your car accident lawyers you'll have the following advantages:
A team of attorneys and staff with decades of experience in Washington car accident claims

Dedicated and compassionate attorneys who understand how to maximize compensation for injured victims within the state's comparative negligence liability laws

Attorneys with a track record of success in recovering millions of dollars for our clients to put a powerful voice behind your car accident claim

An attorney who provides wise legal counsel while getting to know you personally for a full understanding of the impact your car accident injuries have on your life and family
We are a resolution-based law firm with experience in negotiating out-of-court settlements for our clients but we're also strong litigators should a court lawsuit become necessary to gain the compensation you deserve.
Understanding the Legal Framework for Car Accident Claims
Washington State operates under a "fault" car insurance model, meaning the person who is legally at fault for causing the accident is responsible for any resulting harm or damage. Washington law RCW 46.61.520, states that a driver involved in a WA car accident resulting in injury or death is obligated to remain at the scene and provide necessary information. Failure to do so is considered a hit-and-run, a serious offense.
When one driver's negligence causes the accident, they are responsible for damages. "Damages" in a car accident case refers to more than just the damage to a vehicle. It also refers to the physical and financial consequences of the car accident to an injury victim. In order to make a claim for damages, the injury victim must provide proof of the other party's liability by demonstrating the following:
That the at-fault party owed a duty of care to take reasonable measures to prevent injury

They breached this duty by acting negligently or recklessly

The negligent breach of duty directly caused injury

The injury victim suffered damages from the injury
A negligent driver bears all or most of the fault in the majority of car accident claims in Snohomish, but occasionally another party is liable for damages such as a negligent road maintenance agency or the manufacturer of a defective tire or auto part. An experienced attorney can determine the correct liable party and build a compelling case for compensation to the victim.
What Compensation is Available for Car Accident Claims in Washington?
A successful Everett car accident claim can help ease the financial stressors associated with injury victims who may be unable to work at the same time that medical bills pile up. A successful claim brings compensation for damages such as the following:
Past and future medical expenses

Reimbursement for lost income and future income loss for further care related to the accident

Diminished earning capacity if the accident caused a disability

Pain and suffering 

Other applicable non-economic damages like disfigurement compensation, emotional trauma, PTSD, or loss of enjoyment in life
Your Snohomish car accident attorney can carefully calculate your damages to maximize your settlement. Our contingency-based payment system means we only get paid a percentage after we secure your settlement or jury award for damages.
Common Causes of Car Accidents in Snohomish County
Car accidents occur when you least expect them, yet the common causes of car accidents in Snohomish are similar to those in other areas. At Wells Trumbull Car Accident Attorneys, we see victims of car accidents with the following causes:
Distracted driving

Driver intoxication

Tailgating

Speeding and reckless driving

Unsafe lane changes

Failure to yield the right of way

Running a red light or stop sign

Defective auto parts or tires

Road debris or unsafe road maintenance
Driver error is the leading cause of car accidents in Snohomish County and elsewhere. If the accident causes significant economic and non-economic damages, the at-fault party must compensate the victim for their injury-related damages. The compensation typically comes from the at-fault driver's insurance policy, not from their personal funds.
The Statute of Limitations for Car Accident Claims in Washington
Car accident victims have a time constraint to file a lawsuit. Under RCW 4.16.080, the statute of limitations for personal injury claims in Washington State is three years from the date of the accident. Failing to file injuries or property damages within this timeframe could bar the victim from recovering any compensation. It's important to contact a law firm specializing in car accidents to ensure you receive proper compensation.
If you have questions about the statute of limitations in your case, ask your attorney. Some exceptions to the three-year car accident case limit exist including the following:
Injury victims under age 18 at the time of the accident have until three years after their 18th birthday to file a claim

If a car accident victim doesn't discover an injury until a later date—for instance, when the cause of a nagging backache is diagnosed as a burst fracture from the car accident—the three-year clock begins ticking on the date of the discovery
Ask your attorney about how the state's statute of limitations can impact your case. Most accident claims filed by injury victims with effective legal representation are settled out of court well within the 3-year time limit to file a court case.
Comparative Fault in Washington
Washington State employs a pure comparative negligence rule, as per RCW 4.22.005. This means that an injured party can still recover damages even if they are partially at fault, but the recovery would be reduced by their percentage of fault. If the injury victim is found to be 25% at fault, they can only recover 75% of their total damages. For example, if the injury victim was 25% at fault for the accident and their damages add up to $100,000, they'll recover $75,000.
Make sure to speak with a personal injury attorney today and file an accident report if you have been injured in an auto accident.
Insurance Claims and Car Accident Settlements
Washington insurance law mandates drivers to carry a minimum amount of liability insurance: $25,000 per person, $50,000 per accident for bodily injury, and $10,000 for property damage (25/50/10). Navigating through insurance claims involves negotiating with insurance adjusters whose aim is often to minimize the payout. Thus, having legal counsel is instrumental in securing a fair settlement.
What to Do After a Car Accident in Washington
Following a car accident in Snohomish County, it is pivotal to immediately seek medical attention and collect evidence at the scene, including photographs and witness statements, which could be crucial when filing a claim. Additionally, filing a police report can provide an official account of the incident, aiding in establishing liability.
Use your phone after an accident or hand it to an uninjured person to use for you to do the following:
Take photos of the damaged vehicles

Take photos of the accident scene, including anything relevant to the crash like skid marks, an intersection, or a traffic signal

Take photos of any visible injuries

Add the contact information of other drivers and eyewitnesses

Record a statement of what you remember about the accident since trauma may fade the memory later
Be sure to accept emergency transportation to the hospital and ask for a full evaluation. Have the doctor make a complete medical report detailing your injuries, recommended treatment, and prognosis. Gather the police report, medical report, medical bills, and photos for your free consultation at Wells Trumbull car accident attorneys in Snohomish.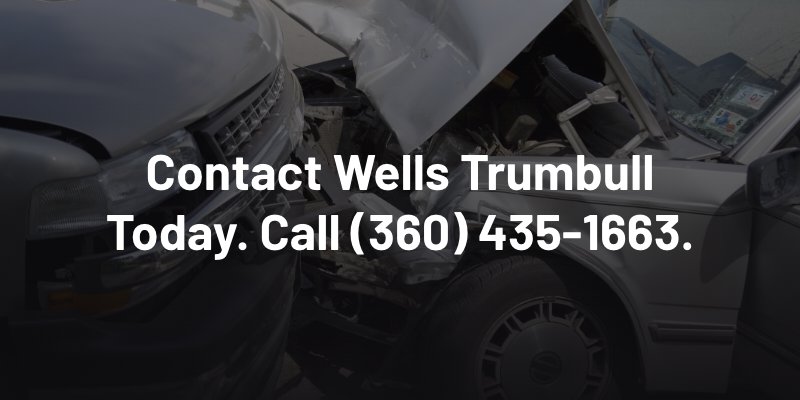 How to File a Car Accident Claim in Snohomish County
It can be challenging to navigate the car accident claim procedure while you're struggling with painful injuries, medical procedures, and lengthy recovery times. A car accident lawyer from Wells Trumbull can help by gathering the evidence of your claim, thoroughly investigating the accident by examining the police report, photos, and eyewitness testimony, and then doing the following:
Documenting evidence of liability and sending it in a demand package to the insurance company of the at-fault party

Entering negotiations with the insurance party for an out-of-court settlement

Communicating openly between you and the insurance company to reach a mutually agreeable settlement amount so you don't have to go to court

Filing a lawsuit within the statute of limitations if the insurance company fails to offer an ample settlement or wrongfully denies your valid claim

Litigating the matter before a jury to aggressively demand an appropriate jury award for your damages.
Less than five percent of car accident claims require a courtroom. With a strong advocate behind your claim, it's likely to settle out of court. However, the attorneys at Wells Trumbull are experienced litigators who will protect your rights and best interests in court if needed. 
Why Hire a Snohomish Car Accident Lawyer for Your Car Accident Claim?
Speaking with car accident attorneys in Snohomish County can significantly influence the outcome of your claim. An experienced lawyer can effectively negotiate a settlement or represent you in court to ensure you obtain rightful compensation for medical bills, lost wages, property damage, and pain and suffering. This is why it is crucial to establish a positive attorney-client relationship.
If negotiations with insurance companies fail, filing a lawsuit may be the step. The litigation process involves the discovery, pre-trial motions, and, possibly, a trial. This rigorous process emphasizes the importance of being represented by a skilled personal injury lawyer who can help you navigate the complex legal process and advocate fervently on your behalf.
Contact an Experienced Snohomish Personal Injury Lawyer at Wells Trumbull
Navigating a car accident claim in Washington State requires a thorough understanding of the legal landscape. Furthermore, the complexities involved in negotiating with insurance companies and the stringent timelines for filing a lawsuit underscore the importance of securing experienced legal representation.
A knowledgeable and experienced Snohomish County car accident lawyer can guide you through the intricate process successfully, preserving your rights and helping you receive the compensation you are entitled to for your injuries and losses.
If you or a loved one has been seriously injured in a car accident, legal representation is not a luxury, it is a necessity. Wells Trumbull specializes in personal injury law and can help you today. The attorneys at Wells Trumbull have a proven track record of helping our clients get the compensation you deserve. Contact us to schedule a free consultation with an experienced car accident attorney in Snohomish County and to learn more about how we can help.