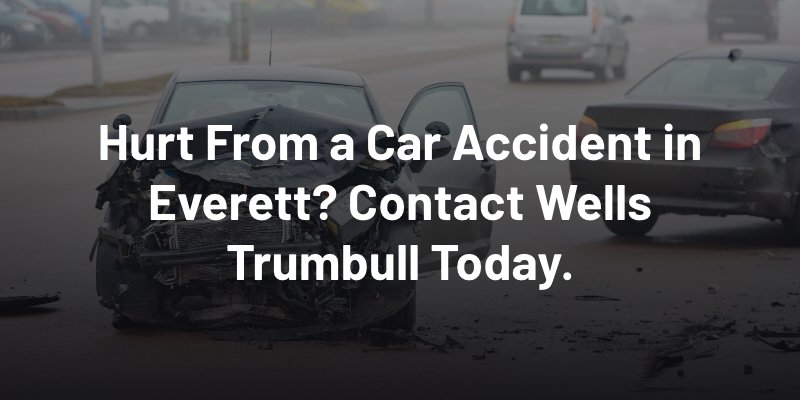 Car accidents occur all the time and often there are injuries involved. In these types of circumstances, you'll want to work with an Everett car accident lawyer regarding the next steps. While every victim is different, one aspect that's the same is that you need compensation for your injuries.
Here at Wells Trumbull, our car accident lawyers in Everett, WA fight for what's right. We encourage you to contact us to get in touch with a member of our qualified legal team to discuss the details of your situation and how to proceed.
There are no upfront fees and we're available to speak with you around the clock. Keep in mind that we don't get paid unless you do. Contact us at (360)435-1663 today for a free consultation.
Everett Car Accident Resources and Quick Links
How Can Our Car Accident Attorneys in Everett, WA Help?
If you need a car accident lawyer in Everett, WA then look no further. Our experienced attorneys are here to assist you with all your car accident legal needs. We stand for and will fight for fairness and getting what you deserve and what is right for you as a client of ours.
Our Everett personal injury lawyers will ensure you receive the best care possible, help if you were injured as a passenger in someone else's car, answer any questions you may have about the claims process, and assist if you were injured by someone else's negligence while walking, biking, or driving in Everett, WA.
Make sure to contact an experienced car accident attorney in Everett to begin talking about the details of your situation in greater detail.
Washington Law on Car Accidents
Washington is a 'fault' state when it comes to car accidents. This means that the person responsible for causing the car accident is also responsible for any resulting harm or property damage. Proving fault is crucial in car accident cases, and an Everett personal injury attorney can significantly help in establishing liability through diligent investigation and application of relevant statutes, regulations, and case law.
Under the mandatory insurance law in Washington, delineated in RCW 46.29.490, drivers must possess liability insurance with minimum coverage of $25,000 for injuries or death to one person, $50,000 for injuries or death to multiple people, and $10,000 for property damage. This insurance aids in covering a car accident victim's damages.
Victims of car accidents can seek compensation for various damages, including medical expenses, loss of earnings, pain and suffering, and property damage. An experienced Everett car accident attorney can help in accurately estimating the value of your claim, considering both your current and future needs, and can represent you in settlement negotiations or at trial to obtain the best possible outcome.
Comparative Negligence in Washington
Washington follows the doctrine of comparative negligence in car accidents and other personal injury cases. Under this doctrine, even if you are partially at fault for an accident, you can still recover damages. However, your compensation would be reduced by your percentage of fault. For example, if you are found to be 20% responsible for the accident, for instance, you can still recover 80% of your damages from the other party. An experienced Everett personal injury attorney can help argue to minimize your degree of fault and maximize your potential recovery.
Proving Liability in Everett Car Accidents
In some car accidents, it's immediately clear who is at fault. For example, in a drunk driving accident when an intoxicated motorist veers out of their lane and causes a head-on collision or if a driver runs a red light and it's caught on traffic cameras in the intersection, fault and liability is clear and evident. 
Determining fault in some car accidents could require an investigation, including interviewing eyewitnesses, examining photos, reviewing the police report, and consulting with accident reconstruction specialists. In less common cases, the at-fault party might not be a negligent driver at all but could be a negligent road maintenance agency or the manufacturer of a defective auto part. Proving liability requires documenting evidence to demonstrate the following legal points of liability in Washington:
Duty of Care: 
In order to be liable for damages, the at-fault party had to have a duty of care toward the injury victim. As drivers, we all owe a duty of care to others on the road to take reasonable measures to avoid causing injuries. This means following traffic laws, avoiding distractions, and not getting behind the wheel while intoxicated.
Breach of Duty:
The injury victim (plaintiff) must prove that the at-fault party (defendant) breached their duty of care by acting negligently, recklessly, or with intentional wrongdoing. For a manufacturer, this requires proving that they breached their duty by producing a defective car part or auto electronic system.
Causation:
In order to make a claim for damages, the injury victim must demonstrate that the at-fault party's breach of duty directly caused their injuries.
Damages:
A car accident injury victim must be able to prove that they suffered economic and non-economic damages from the injury, like medical expenses, lost wages, and pain and suffering.
Once a skilled attorney investigates the accident and crafts a compelling case for liability, they will carefully calculate the victim's damages and send a demand package to the insurance company of the party at fault for the accident. In many cases, the insurance company offers a settlement for the damages to avoid court. Some negotiating back and forth may take place before the injury victim accepts the settlement amount they find reasonable for their damages. In the event that the insurance company fails to offer a fair settlement or wrongfully denies a valid claim, the attorney will file a lawsuit and litigate the matter in court within Washington's statute of limitations for car accident claims.
Statute of Limitations for Car Accident Claims in Washington
A key consideration in car accident cases is the statute of limitations. In Washington, a three-year statute of limitations applies to personal injury claims. This means you have three years from the date of the accident to file a lawsuit against the other party. As such, time is of the essence, and engaging an Everett personal injury attorney promptly can ensure that you do not forfeit your right to seek compensation due to procedural time limits.
Common Causes of Car Accidents
There are several reasons for a car accident to happen on the road. The following are a few of the most common causes of car accidents.
Distracted Driving
In many cases, a driver may be distracted and inattentive while driving. It's important to abide by Washington's distracted driving laws.
Reckless Driving
There are instances where a person is injured because of someone else's negligent or reckless driving in Washington. It may require that you seek immediate medical attention and contact an Everett car accident attorney for help.
Speeding
A person who is speeding may cause an accident and injuries to those involved if there's an accident.
Drunk Driving
A person may be unable or too impaired to operate a vehicle if drugs or alcohol are involved.
Defective Car Parts
Some mechanical defects or errors can have a profound impact on the safety of motorists who are out on the road.
We know that being in a car accident can have a life-changing impact and effect on injured victims such as yourself. If you have been injured in a car wreck and are in need of consultation or representation, then it's best to find a car accident attorney in Everett to help.
Injuries You Can Get From a Car Accident
There are also many different injuries that you can get from a car accident. They can range from minor to severe and life-threatening. Either way, if you feel you've been injured in a car accident then you should seek medical attention right away and make sure that you document your injuries and treatment plan.
Possible injuries you may get from a car accident include:
Limb loss and amputation
Back injuries
Burns
Internal injuries
Disfiguring facial injuries and scars
Fractures and broken bones
Bruising/contusions
Whiplash
Internal bleeding
PTSD (or other psychological pain like guilt)
The damages awarded will help compensate you for your injuries and aid you in working toward restoring your life back to normal. While you can't control the decisions or actions of other drivers on the road, you can do your best to try to avoid car accident injuries. If you are hurt then remember to seek medical attention immediately. It's best even if you think you aren't hurt because your car accident injuries may even show up later.
Steps to Take After a Car Accident
There are some crucial steps you must take after a motor vehicle accident. It can be a traumatic experience and you may not always be thinking clearly. However, keep in mind that it's vital you seek medical attention immediately if necessary. It's important that you don't panic and instead follow these steps and tips.
Document the accident in detail and any injuries to have on hand for your potential case.
Gather evidence related to your accident, including photos, notes, and eyewitnesses.
Report the accident to the police and your insurance.
Contact a car accident attorney in Everett, WA to review your case and suggest the next steps. (It's especially important if you're injured because you'll want help going up against the big insurance companies.)
While you are not required to be represented by an attorney, hiring one to assist you with your car accident claim may be in your best interest. Car accident claims require a sophisticated understanding of various laws, doctrines, and regulations to effectively pursue compensation. Contact an Everett car accident attorney to review your case and help. We strongly believe you should be supported after suffering consequences from negligent and reckless drivers.
As experienced and professional Everett car accident lawyers, we'll help you navigate your situation and the legal system. We'll assist you in figuring out exactly who's responsible for your injuries and how to manage the claim properly. We'll handle the logistics and confusion that come with managing this aspect from the date of the incident all the way through your recovery. There's a lot that goes into handling these claims and many parties who are involved. Let us take the stress off your shoulders and provide you with guidance and expertise to effectively maneuver through these important but confusing aspects.
At Wells Trumbull, we will look at each case individually to find you a win for any injuries sustained! We will handle all aspects of your claim, including the back and forth negotiation process with insurance companies. Use our free consultation service today to get started.
Types of Compensation Car Accident Victims Can Seek
There are several types of compensation that car accident victims can seek in your situation. Your team of Everett car accident attorneys at Wells Trumbull will work hard to ensure you receive any and all compensation for what you've been through. Some examples of what can be recovered include:
Property damages
Medical expenses
Lose wages
Pain and suffering
Wrongful death damages
It all depends on the severity of the injury as it relates to the value of pain and suffering damages. The best way to get the compensation you need to make a full recovery is to work with an experienced Everett car accident attorney. Your auto accident lawyer in Everett can help you determine in which categories you may qualify for asking for compensation and how much to ask for. Contact an auto accident attorney in Everett, WA for more information.
Recoverable Damages for Car Accident Victims
"Damages" in a car accident claim refers to more than just property damage to a car. In accidents with serious injuries, damages refer to all consequences of the accident to the victim, including both economic and non-economic consequences. A successful claim for damages begins when a car accident lawyer from Everett carefully calculates all of your medical costs and related expenses and then uses this as a basis to determine an amount of compensation for your pain and suffering. To maximize recoverable damages, your accident attorney will calculate not only your existing medical bills but also any future medical expenses related to your injuries such as further surgeries and medical procedures, physical and occupational therapy, home healthcare, medical equipment, and medications. You may also gain an amount for damages to your emotional health if you require counseling or therapy to deal with the trauma of the accident.
Recoverable damages after a car accident can also include an amount for future lost income if your medical treatment and therapy will cause you to miss hours or days of work. If your injuries left you with a significant disability, you could recover compensation for diminished future earning capacity.
In serious car accident cases, the damages could include intangible damages like disfigurement compensation, compensation for limb loss, and compensation for loss of enjoyment of life or loss of consortium (the ability to enjoy a complete physical romantic relationship).
Preventing a Car Accident
It's also important to keep in mind that you don't want to be in a similar situation in the future. In this case, there are steps you can take to help prevent a car accident from occurring. There are some driver safety tips you may want to consider applying as you head back out on the road.
Be a defensive driver and pay attention to your surroundings.
Be safe by buckling up and making sure your car is in good condition before taking it out.
Go and follow the speed limit.
Never use drugs or alcohol before getting behind the wheel as well.
Keep your eyes on the road and eliminate any distractions so you're completely focused on what you're doing.
Get good and enough rest because driving drowsy is risky and may put you in danger of being in an accident.
Should you get into a car accident then you may be wondering how it's determined if you have a case against another driver. It's simply too hard to decide this on your own. To determine if you have a car accident case, then ideally you should get in touch with an experienced car accident attorney in Everett, WA.
An Everett car accident attorney will go over your case and provide a free consultation for you. Here at Wells Trumbull, we understand that this is a trying and difficult time for you and your family. Therefore, we will work closely with you to help you get the compensation you merit based on the details of your case.
Next Steps: Call a Car Accident Lawyer in Everett, WA
Have you been injured in a car accident and need legal guidance and support right away? We encourage you to turn to our team at Wells Trumbull so that you can get the help you need navigating your case. We promise that when you contact our car accident lawyer in Everett, WA that you'll be taken care of and that you'll have a better chance of getting the compensation you deserve.
At Wells Trumbull, our team of personal injury lawyers in Everett serves clients with the skills and professionalism you can trust. It is all that we do, and we are experienced, dedicated, and personable with our clients. Our personal injury legal team is one of the best, and we offer a free consultation to clients who have sustained injuries or have lost a loved one in an accident. We are committed to helping make the situation less worrisome for you and your family by providing compassion to assure that your legal matters are handled by the most capable and trustworthy auto accident attorneys available.
It's never easy to end up in a car accident and deal with injuries and the stress of the situation. Get in touch with an Everett car accident attorney because they can evaluate your case and take the necessary steps to respond in the best way possible after a car accident. Are you ready to start the conversation?
Contact us directly at (360) 435-1663 or online for your free consultation.  The best way to get a free consultation for your car accident case is by contacting Wells Trumbull. We have the experience and knowledge necessary to help you.