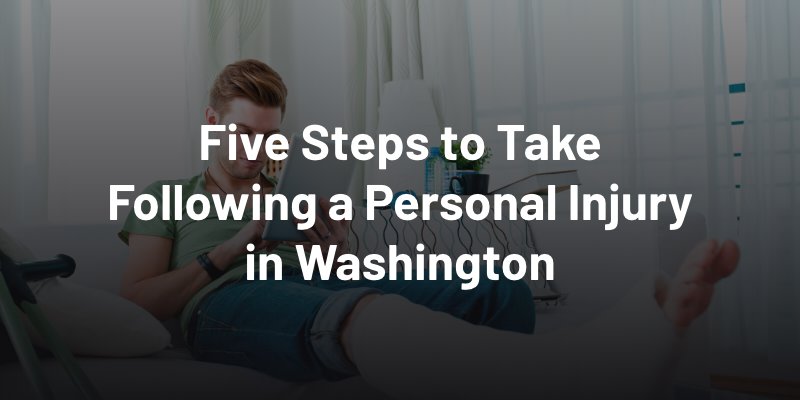 No one begins their day expecting to experience a serious injury, but accidents and injuries can send a victim's life spinning off course in a moment. Long after an injury occurs, the victim may look back and wish they'd done things differently in the moments and days after the injury, especially if it was a preventable injury caused by someone else's negligence, reckless behavior, or intentional harm. When someone else causes a serious injury, the injury victim can make a claim against the party at fault to recover damages. "Damages" in a personal injury claim are the economic and non-economic consequences of the injury.
No one wants to be that person looking back later and wishing they'd preserved evidence or known what to do to protect their physical and financial future at the time of the accident. By knowing ahead of time what important steps to take after a personal injury, you may be better equipped to protect yourself with a cool head, even if you're seriously hurt after a preventable injury. Contacting a personal injury attorney in Edmonds will also help assist you in navigating the complications of your injury.
What Kinds of Injuries Qualify for a Washington Personal Injury Claim?
First, it's important to understand when an injury is one in which you're responsible for your own damages or one that occurred due to someone else's fault, leaving them liable for damages like your medical expenses, lost wages, and pain and suffering compensation. If you trip on a toy in your own home, you are responsible for any damages resulting from the injury. If someone else's actions caused the injury somewhere other than your own property, they are liable for damages.
We all owe a duty of care to take reasonable measures to prevent causing injury to others. For example, drivers have a duty to follow traffic laws and avoid distractions to prevent car accidents. Store owners have a duty to promptly repair or address safety hazards on their property to protect customers. If someone breaches their duty of care and the result is a serious injury, they are responsible for damages. Compensation for damages typically comes from the appropriate insurance policy.
Examples of common injury causes in Washington personal injury claims include the following:
Pedestrian accidents
Bicycle accidents
Slip-and-fall injuries
Dog bites
Defective product injuries
Medical malpractice injuries
Workplace injuries
These types of injuries can impact a person's ability to earn a living, especially for serious injuries like traumatic brain injuries, back and neck injuries, and broken bones. When someone else was at fault, the injury victim shouldn't be left responsible for undue expenses.
Five Important Steps to Take After a Personal Injury
Document Evidence Immediately after the injury:
After you've been injured, you may be unconscious or incapacitated, in which case, you can do little other than wait in place for help to arrive. However, if you can safely use your smartphone or hand it to an uninjured companion to use for you, you can document crucial evidence at the scene that will later help your claim. Use a phone to do the following:
First, call 911 to request emergency services and to report a car accident or a crime
Then, use the phone to snap photos of anything relevant to the injury, like a defective product, the damaged vehicles in a car accident, or a spill on a store floor
Take photos of any visible injuries
Record a brief statement about what you remember about the accident because trauma may fade the details later
Add the contact information of any eyewitnesses as well as anyone involved
Be sure to ask for a police report or a business accident/incident report. Then, accept emergency transportation to a hospital or make arrangements to go to an emergency room as soon as possible.
Go to the Hospital
At the hospital, be sure to tell the doctor about all of your symptoms, even if they seem minor. Ask for a detailed medical report with the doctor's recommendations for treatment of your injuries and your prognosis. Be sure to follow all of your doctor's recommendations.
Gather Evidence and Avoid Social Media
In the days after the accident, be sure to avoid posting anything about your injuries on social media. Often, innocent photos or remarks may be used against you later by insurance companies seeking to minimize or deny your claim. Gather evidence for a personal injury claim, including the following:
A copy of the police or accident report
The contact information of involved parties and eyewitnesses
Your medical report
Medical bills and receipts of your related expenses
A record of your typical income
Photos and videos related to the injury
It may also benefit you to begin a journal to document all medical appointments, your daily pain level, and the impacts of the injury on your daily routine.
Have a Consultation With a Washington Personal Injury Attorney
Gather your evidence and schedule a consultation with a personal injury attorney in Washington before you communicate with insurance companies about your claim. Most reputable personal injury attorneys offer free case consultations and require no upfront fees. Instead, they take a fee only if they secure your compensation. An experienced Everett personal injury attorney will be able to craft a compelling case since you've carefully documented your evidence after the injury.
Refer all Communications With Insurance Adjusters to Your Lawyer
Finally, don't communicate directly with the insurance adjuster assigned to your claim. Sadly, insurance companies are private entities in business to make a profit, no matter how compassionate they might sound on the phone. It's best to refer them directly to your Washington personal injury attorney who can anticipate and counteract common insurance company tactics such as the following:
Calling you very soon after your accident to offer a low settlement amount before you know the full extent of your damages. This is in exchange for you signing away your right to file a lawsuit
Calling you on a recorded line and using your words out of context against you
Obtaining your medical authorization to examine your records and then combing through your past medical history to find a pre-existing condition or previous injury they can claim as the true cause of your symptoms.
Claiming their own medical experts say the treatment your doctor recommended isn't necessary.
Combing through your social media accounts to look for "evidence" that you've exaggerated your injury claim.
A successful personal injury claim in Washington can provide the financial relief that you need after a serious injury so you can focus on your physical recovery. By taking steps to protect yourself in the moments, days, and weeks after the injury, you can maximize your chance of recovering full compensation for your damages.