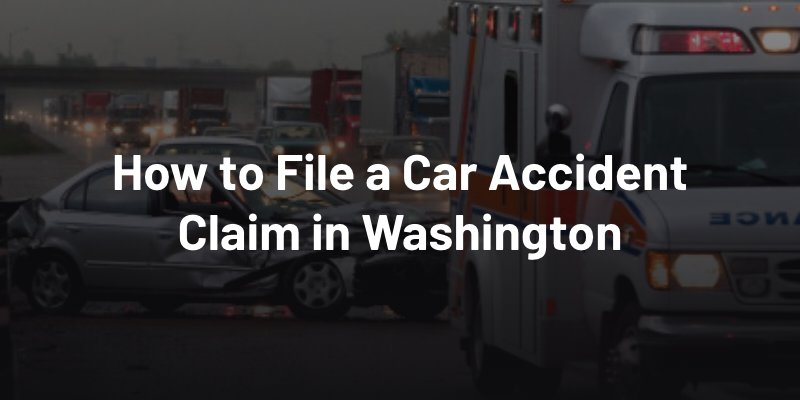 The immediate aftermath of an accident is traumatic and terrifying. Often, the distress of a car accident continues as injury victims find themselves dealing with complex legal claims at the same time that they're trying to focus on their physical recovery.
The process for filing a claim for damages in Washington can be daunting because the state's fault-based insurance system requires that injury victims bear the burden of proving liability against the party at fault for the accident to recover their damages. "Damages" in a car accident claim refers to more than just the damage to a vehicle, but to all the economic and non-economic consequences to injured victims. Hiring an experienced Edmonds personal injury attorney to take on the legal aspects of your car accident can free your time and energy to focus on healing from your injury.
What to Do Immediately After the Car Accident in Washington
Because Washington's pure comparative negligence laws place the burden of proving the at-fault party liable for damages on the injury victim, the first step toward a successful claim takes place immediately after the accident while you are still at the scene. Naturally, if your injuries are severe, you may be able to do little other than wait in place for emergency services to help you. However, if you're able to move about without causing further injury, or you're able to hand your phone to an uninjured person to take the steps for you, the following steps can help streamline your claim and protect your financial future:
First, call 911 to report the accident and request emergency services
Then, photograph the damaged vehicles and/or objects
Photograph any visible injuries
Take photos of the entire accident scene, focusing on anything relevant to the accident like a signal light, traffic signs, and skid marks
Add the contact information of other drivers and eyewitnesses
At the hospital, undergo a thorough medical examination and ask for a detailed report. Report the accident to your insurance company. Then, gather your evidence, the police and medical reports, and your medical bills, and call a car accident attorney in Edmonds before speaking to insurance adjusters about the accident.
Understanding How to File a Car Accident Claim in Washington
In accidents without significant injuries, your insurance company will investigate the accident and seek compensation for your damages from the insurance company of the party at fault. However, because insurance companies protect their profits, the adjuster on the case is likely to offer a low settlement that may not cover your losses. Often they do this quickly, before you can even know the full extent of the damages you face from medical expenses and lost wages. Accepting a settlement means you sign away your right to file a lawsuit.
Instead of accepting an early settlement, if you have serious injuries with expensive medical bills and related costs—or worse, you've suffered a disabling injury—it's best to hire a personal injury attorney and direct all communication with the insurance companies to your lawyer.
How A Car Accident Attorney Handles an Accident Claim When Someone Else was at Fault
If another driver was at fault in the accident, your car accident attorney will file a car accident claim on your behalf by doing the following:
Filing a petition for a lawsuit within the time constraints in the correct jurisdiction
Have a summons served to the defendant
Investigate all aspects of the accident and your injury and send an evidence-backed demand package to the appropriate insurance company
Negotiate with the insurance company from a position of strength and a resolution-based approach to seek an ample settlement amount for your damages to avoid court litigation
Follow up with litigation in court only if your case is one of the five percent of claims that aren't resolved with a settlement
The overwhelming majority of claims end with a settlement for damages. A court case may take longer but often results in a larger amount of compensation.
What Damages Can I Claim After a Washington Car Accident?
Accidents with injuries quickly become costly. A successful claim can help you recover compensation for damages including:
Past and future accident-related medical costs
Lost income and future lost wages
Diminished earning capacity due to disabling injury
Pain and suffering
Other non-economic damages
Some accidents result in non-economic damages like disfigurement compensation, PTSD compensation, or compensation for loss of enjoyment of life after a severe injury.
An experienced attorney will carefully calculate all available damages in your case to maximize the amount of compensation you recover after your car accident. Contact the Edmonds car accident lawyers from Wells Trumbull today to help with your case.