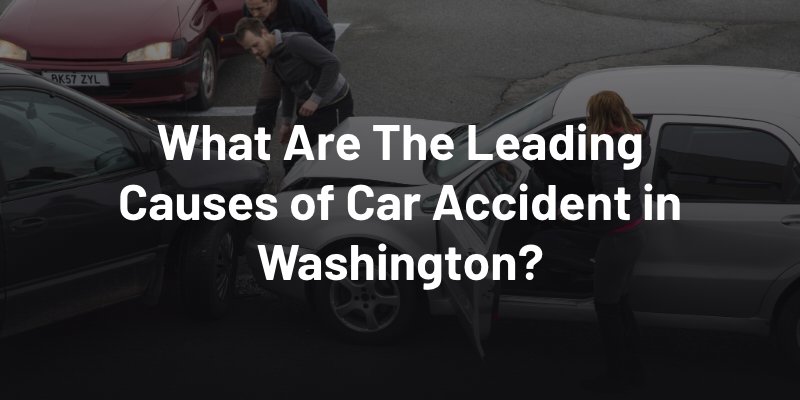 Most of us step into a vehicle each day fully expecting to arrive safely at our destinations, yet 42,795 people died in car accidents in the U.S. in 2022 and many thousands more suffered serious injuries. In Washington alone in 2022, there were 78,544 car accidents with 682 fatalities. With major metro areas like Seattle and congested Washington highways like I-5, I-405, and State Routes 520 and 167, car accidents with serious and even deadly consequences are tragic daily occurrences in Washington.
Drivers can only control their own behaviors and not those of reckless motorists on the road, but learning the major causes of car accidents in Washington can help motorists avoid them. If you were recently injured in a car accident, it can also be extremely helpful to contact an experienced Edmonds car accident lawyer.
Driver Error is the Leading Cause of Washington Car Accidents
Driver error is by far the leading cause of car accidents in Washington and throughout the country. According to the National Highway Traffic Safety Administration (NHTSA), motorists who make negligent driving mistakes cause 94% of all traffic accidents. Common examples of negligence in car accidents include the following:
Failing to stop at a red light or stop sign
Speeding through a yellow light
Making unsafe lane changes
Failing to yield the right of way
Failing to signal a turn
Driving too closely behind another vehicle (tailgating)
Sudden braking
Crossing lanes while making a turn
Failing to adjust mirrors
Failing to turn on headlights during fog, rain, or at dusk
Leaving high beams on when a car approaches
These common driver errors can occur in both inexperienced drivers and long-time drivers who become careless on the road. When one of the above common driving mistakes causes an accident, the negligent driver is liable for damages to the victim. "Damages" refers not only to damage to a vehicle, but also to economic damages like an injured victim's hospital bills and lost wages, and non-economic damages like compensation for pain and suffering.
Recklessness, Intoxication, and Road Rage in Washington Car Accidents
Besides negligence in car accidents, recklessness and wrongdoing are also all-too-common causes of accidents on Washington's roads. Examples of recklessness and intentional wrongdoing leading to accidents include the following:
Distracted driving
Driving under the influence of alcohol or drugs
Speeding
Aggressive driving
Weaving between lanes
Road rage behaviors
Not only do the above actions behind the wheel cause accidents, and leave the driver liable for damages, but some reckless driving behaviors like intoxicated driving and road rage also leave the driver open to criminal charges, especially if the accident leads to serious injury or death.
Other Causes of Car Accidents in Washington
Negligent or reckless drivers are most commonly at fault for car accidents in Washington, but other negligent parties named in car accident claims include:
The manufacturer of a defective car part or tire
A negligent road maintenance agency that failed to maintain a road in a safe condition or repair a faulty traffic signal
A thorough investigation is required in Washington car accident claims to determine who caused a car accident. Washington's fault-based insurance laws allow victims to recover damages in a car accident even if they were partly at fault. The compensation they recover will be minus their percentage of fault for the accident. Contact Wells Trumbull if you have recently been injured in a car accident.