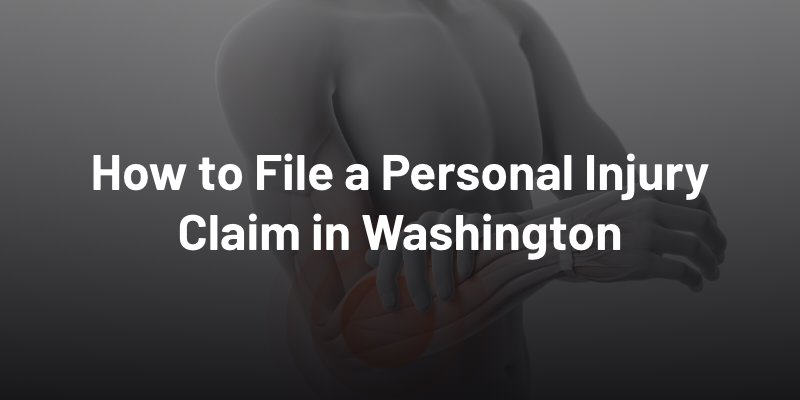 Sustaining a sudden serious injury is painful and distressing. Some injuries may even cause life-altering disabilities. Suffering a severe injury becomes even more traumatic when the injury occurred only due to someone else's negligence, reckless behavior, or intentional wrongdoing. If this is the case, and you've suffered serious damages like medical expenses, lost wages, and pain and suffering as a result, learning how to file a personal injury claim in Washington can help you take a step toward maximizing your physical and financial recovery.
What Do I Do Immediately After an Injury Caused By Negligence?
We all owe a duty of care toward others to take reasonable measures to prevent harm. When someone fails to do what another reasonable person would have done to prevent causing injury to others, and you're hurt as a result, that person or business is liable for your damages. "Damages" in a personal injury claim refer to the economic and non-economic consequences an injury victim suffers.
The first step in the personal injury claim process begins right at the scene of the injury if you're able to use your phone to document evidence. Let's say you are injured in an Everett car accident. If you're too injured to move safely, ask an uninjured person nearby to help you by using your phone to do the following:
First, call 911 to request emergency services
Take photos of your visible injuries
Photograph anything relevant to your injuries like the damaged vehicles in a car accident, or a wet floor in a slip-and-fall accident
Ask for an accident report from the police or an incident report from a business
Always accept emergency transportation to the hospital and have a complete medical evaluation. Be sure to tell the doctor about all of your symptoms even if they seem insignificant since some injuries don't fully present themselves until later, when the adrenaline rush subsides. Gather your evidence and call a personal injury attorney in Everett to handle your claim.
Why Do I Need a Personal Injury Attorney for the Injury Claim Process in Washington?
Washington's fault-based insurance laws require the injury victim (plaintiff) in the case to prove the at-fault party's (defendant's) liability in the case by a preponderance of the evidence. Insurance companies often protect their profits by quickly offering a low settlement before you may even know the full scope of the damages you face. Accepting an early settlement means you sign away your right to file a lawsuit. A personal injury attorney will protect your rights and best interests by taking the following steps in the Washington personal injury claim process:
Investigate all aspects of the injury's occurrence to document clear evidence of liability on the part of the individual or business at fault
Carefully calculate your damages to maximize the amount you can claim
Send an evidence-based demand package to the insurance company of the at-fault party and file a lawsuit in the correct jurisdiction
Enter negotiations with the insurance company to attempt an out-of-court settlement for your damages so you receive ample compensation without the need to litigate in court
If the insurance company wrongfully denies the claim or seriously undervalues the amount of your compensation, the attorney takes the matter before a judge and jury in court to secure a court award for your damages
While the court process takes longer than a settlement, most jury awards for damages are significantly higher than an average settlement. If your attorney has ample evidence in your case, you may benefit from taking the claim to court.
The personal injury claim process can be challenging to take on while you're still recovering, but a skilled attorney on your side is an invaluable asset for navigating the process and putting a powerful voice behind your claim. Contact Wells Trumbull today for a free consultation.