When a sudden injury occurs, it can have a life-altering impact on the victim. All injuries are painful and distressing, but an injury is even more traumatic when it occurs due to someone else's negligent or reckless actions. If you or a close family member suffered a preventable injury due to the actions of an individual or a business entity, you shouldn't be left with undue financial burdens. A successful personal injury claim for damages can help you move forward toward recovery. "Damages" in a personal injury claim are the physical and financial consequences of the injury.
Call or contact the Seattle personal injury law firm of Wells Trumbull today so we can begin strategizing the best way to get results in recovering your compensation.
Why Hire a Seattle Personal Injury Lawyer from Wells Trumbull?
At Wells Trumbull Personal Injury Attorneys in Washington, our team is committed to a resolution-based approach and exceptional client service. With a lawyer from Wells Trumbull, you can expect the following advantages in your personal injury case:
Open and honest communication throughout the process so you're never in the dark about the progress of your case
An attorney with a strong reputation of success to put a powerful voice behind your claim
Skilled negotiators to deftly handle negotiations with the insurance adjuster of the at-fault party to maximize a settlement
Experienced litigators to advocate aggressively for your full compensation in court if the insurance company fails to offer an acceptable settlement amount
Compassionate personal injury lawyers who understand the importance of getting to know an injured client to personally witness the impact of the injury on their life
At the Seattle personal injury law firm of Wells Trumbull, we have decades of experience in navigating Washington's complex personal injury liability laws.
What is a Personal Injury Claim?
When an injury was preventable and only occurred because of someone else's negligence, recklessness, or intentional wrongdoing, the court holds the at-fault party liable for the victim's damages. Compensation typically comes from the liable party's insurance policy. For instance, an auto insurance personal injury protection (PIP) policy in an Everett car accident claim or a business owner's commercial property liability insurance in a slip-and-fall case.
Injuries are not only painful and sometimes debilitating but they also quickly become expensive. Washington courts understand the financial hardship this can cause for victims and their families. A personal injury claim offers a sense of justice as well as financial relief for the victim.
Common Personal Injury Cases Handled by Seattle Lawyers
The Seattle personal injury attorneys at Wells Trumbull understand the complexities of Washington's pure comparative negligence insurance laws to handle your case with the professionalism and diligent attention it deserves. Common personal injury cases in Seattle include the following:
Pedestrian accident injuries
Bicycle accident injuries
Slip-and-fall or trip-and-fall accidents
Dog bites
Workplace injuries
Medical malpractice
Defective product injuries
Acts of violence
Any of the above cases cause serious injuries with life-altering impacts on survivors and their families. A successful claim can promptly put compensation in the injury victim's pocket so they can focus on their physical health and well-being.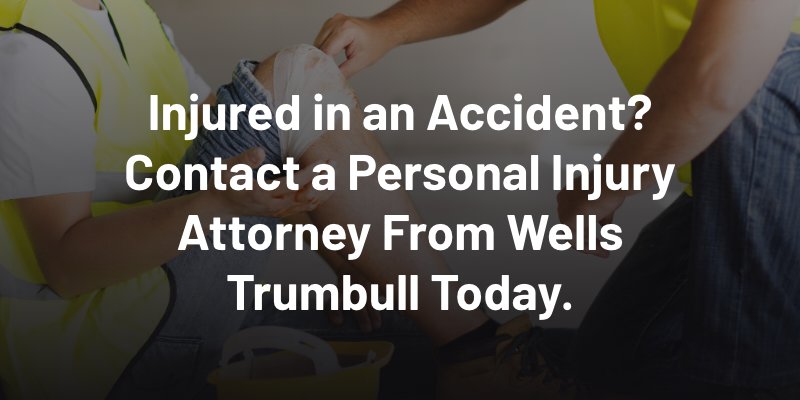 Steps to Take After Suffering a Personal Injury in Seattle
The aftermath of a sudden traumatic injury can be chaotic and frightening, especially when the injury is severe and painful. Some injury victims may be able to do little other than wait in place for help, but if a victim can use their phone or hand it to someone else to use for them, they can maximize their chances of a successful claim for damages by taking following steps:
First, call 911 to request emergency services. Ask to notify the police if the injury occurred in a traffic accident or as the result of a violent crime
Use the phone's camera to take photos of anything relevant to the injury such as a loose floorboard in a trip-and-fall case or damaged vehicles in an accident
Take photos of any visible injuries
Add the contact information of anyone involved and any eyewitnesses
Ask for a police report or business accident report
Accept emergency transportation to the hospital or arrange transportation to an ER as soon as possible after the injury
At the hospital, ask for a full evaluation and a detailed medical report from your doctor. Have the doctor include their recommendations for your treatment and your eventual prognosis. Then, call the attorneys at Wells Trumbull for a free case consultation.
What are Washington's Laws on Fault and Negligence?
Washington is a pure comparative negligence insurance state. This is a fault-based system for injury victims to recover damages after an accident. In Washington's personal injury claims process, the injury victim must prove the at-fault party's negligence in order to show evidence of their liability. Proving negligence requires documenting evidence showing the following:
The at-fault party owed a duty of care to the injury victim and others to take reasonable measures to prevent injury, such as a driver's duty to follow traffic laws or a business owner's duty to promptly address safety hazards on their premises
They breached this duty due to an act of negligence, reckless behavior, or purposeful wrongdoing
The negligent breach of duty directly caused the injury
The injury victim suffered significant economic and non-economic damages from the injury
In Washington, even if you were partly at fault for your injury, you can still collect compensation minus your percentage of fault. In other words, if you were 20% at fault for a slip-and-fall injury because you were wearing high-heels, but the business owner was 80% at fault because they failed to repair a damaged walkway, you can still collect compensation. If the amount of your damages is $100,000 due to a severe hip fracture, you can still recover $80,000.
Is There a Statute of Limitations for a Personal Injury Claim in Washington State?
Like all states, Washington places a statute of limitations on the amount of time after an injury occurs for a victim to file a claim. This helps to ensure that evidence remains available if a claim becomes a lawsuit in court. It also protects defendants from the ongoing threat of a lawsuit. In Washington, injury victims have two years from the date of their injury to file a claim for damages.
Only about five percent of personal injury cases require a judge and jury, but an experienced personal injury lawyer in Seattle will diligently file a lawsuit within the two-year time limit if it becomes necessary to litigate your claim in court in order to secure your compensation.
How Much Does it Cost to Hire a Personal Injury Attorney in Seattle?
Reputable personal injury attorneys in Washington State offer free consultations and only charge on a contingency fee basis. This means they only take their fee after they secure a client's compensation. Contingency fees are typically around 30-35% of the compensation amount. However, a skilled attorney maximizes the amount of compensation their client recovers so they gain ample compensation for their damages, including the cost of their attorney.
Reach out to Wells Trumbull today for your free case consultation so you can recover the compensation you deserve. You don't have to go it alone against powerful insurance companies that protect profits at your expense.